Test & Inspect Certification
We also carry out test and inspect of premises and equipment to comply with today's regulations and for insurance purposes, we also carry out all the remedial work that may be required to comply with certification, and depending on the size of the premises to be inspected we can also stagger the volume of work to be done over a period of time, also to help with the financial point of view in regards to easing the financial burden on the customer so as  to be cost effective, also working closely with the insurance companies.
We also have the capability to design and install complete switchgear for new premises and warehouse facilities, lighting installations or whether it be warehouse lighting or office lighting, we can also design out main switch gear facilities and also sub-mains for in workshops etc complete with cable sizing again complying with current regulations.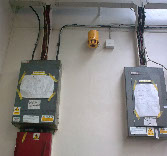 Initial positions of two three phase fuse boards which were obsolete to comply with regulations, which needed upgrading to comply with today's standards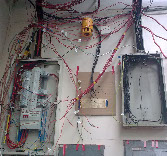 Half-way stage of stripping out two boards preparing cabling for new twelve way Hayger board.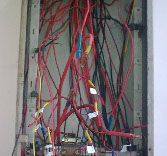 Stripping out old fuse carriers, preparing for complete removal.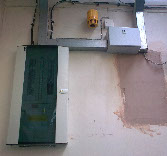 New 12 way Hayger three phase board installed, to take the place of two old eight way boards, whilst this upgrade was being carried out we continued to resume power to the offices while this work was being carried out, on completion all this installation was certified to do with current regulations.
Examples of further remedial work carried out for a pump refurbishment company instead of totally replacing an outdated fuse board it was decided to tidy up the board to be left in position and the reinstallation of a new board to be carried out to cut down on costing for the customer.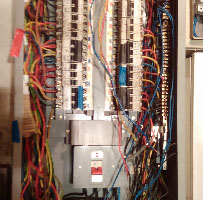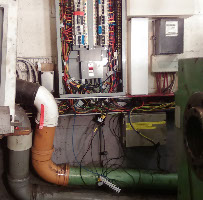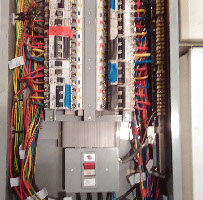 Other Services
Installations of CCTV systems
Installations of security alarm systems
Wide range of inspection and testing providing certification for schools/ colleges, student accommodation, public houses, factories, commercial and industrial enterprises, landlord, house purchases + conveyancing.
Electrical installation condition reports
Electrical inspection and tester fire alarm systems for compliance with fire and local authorities and health and safety regulations
Electrical inspection and test of emergency lighting systems (compliance with fire/ local authorities and health and safety regulations)
H&S risk assessments of premises (compliance with fire/ local authorities and health and safety regulations)